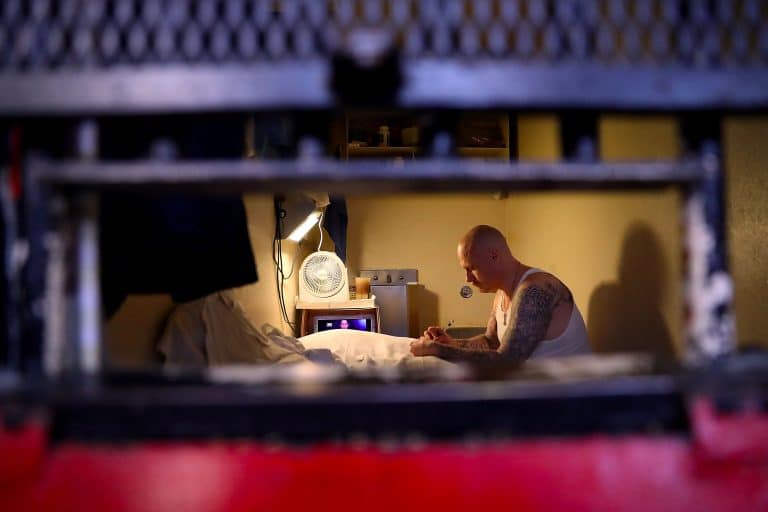 What I Learned About Community From a Maximum-Security Prisoner
"I'm now 29 and almost 11 years into a 45-year sentence for first-degree murder."
I received an unusual letter from a perfect stranger the other day. It is written on lined notebook paper, four pages front and back, with the careful handwriting of someone who is concerned with being understood. At one point, his ink runs out and he begins again with a pen of a different hue. There are very few cross-outs or spelling errors.
The first time I read it through, standing up at my kitchen counter, I am embarrassed by how surprised I was that he is so cogent and thoughtful. He writes:
"Last November I transferred to this prison, which is one security level lower and a completely different environment. I enrolled in college in January and am now working towards an associate degree in Liberal Studies, which I hope to put towards a B.A. in Sociology.

Besides affording me the opportunity to attend college for the first time, the cable here allowed me to discover this wonderful channel, Book TV. Your interview with Krista Tippett for this book was one of the first programs I watched…The thing that resonated with me the most about your interview and book was your sense and valuing of community.

Most people wouldn't know it (or believe it), but community is important and strong in maximum security prison…There is something about knowing that you're potentially doing decades together that induces a long-term view and a mutual dependence to survive that short-timers don't have…A lot of giving occurs. Many men are provided with less than $10 a month to purchase everything they need, which is wholly inadequate. But when things get too bad anyone can ask around and get soap, toothpaste, and other such necessities, or some food. Many times you don't have to ask; if your shoes are worn out someone will give you a pair. If your clothes are yellowed or worn through, someone will give new…And all of these acts are completely against the rules and everyone involved risks being punished with either loss of privileges or segregation."
Not exactly the Stanford Prison Experiment. My eyes well up with tears. It's not that I didn't expect people in prison to be capable of this kind of generosity, but reading the specifics of it — the soap, the shoes, the yellowing shirt — makes it so real for me. I can picture each item, each act. I can feel the gratitude and relief that must fill these waiting, wanting men.
I give into my temptation to Google Clifford Powers and understand the nature of his crime. As he told me, he murdered someone. The Daily Herald reports that he did so in a botched drug deal. At 21 years old, he was trying to steal a half-pound of marijuana and ended up shooting someone. His mom told the paper:
"What happened was a terrible thing, but Cliff is not a terrible person. He is not a person to be thrown away."
Is there such a person? My heart says no. Not just because Clifford Powers has put a pen to a piece of lined paper inside of a cell in Mt. Sterling, Illinois and managed to make a busy writer and mother in Oakland, California stop in the middle of her kitchen and read his every word. Yes, I am impressed with his intention, his literary skill and ambitions, his thoughtfulness (he included a self-addressed stamped envelope for me to write back).
But this is not it. Even if he were angry and illiterate and thought my words were bullshit, he would not be a person to be thrown away. He would be a 29-year-old who at 21 years old did something very stupid and deadly.
I'm writing him back now. I'm going to tell him how moved I was by his accounting of the communal spirit within a maximum-security prison. I'm going to ask him about the drawing that was on the front of the envelope (Trump as the golden goose, I think?!). I'm going to ask his thoughts about gun control; I'm curious what someone who has done what he has done makes of the debate. I'm going to honor him as he has honored me — one wounded and wounding person reaching out through the muck of disconnection and blame and busyness and sadness to one another.
He wrote:
"I spent the last eight years at Stateville Prison where I learned how to be a Human Being."
So many of us are still working on that.