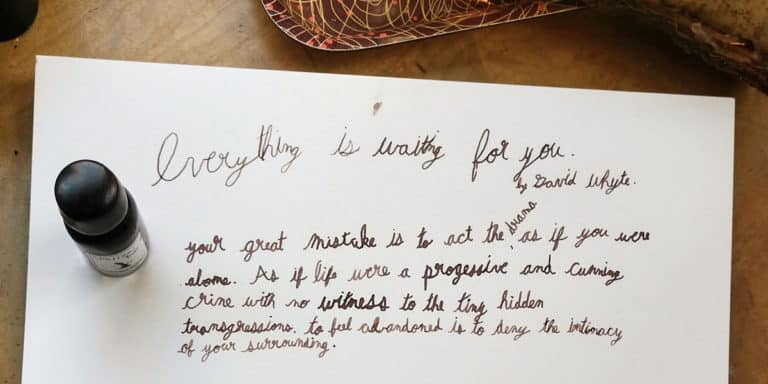 Finding Calm and Contemplation in the Classroom, with Poetry
"Poetry," says David Whyte, "is language against which you have no defenses." Poetry can also help us find our center after a chaotic moment — like recess.
That's the kind of space poetry provided for fourth- and fifth-grade students at The Juniper School in Durango, Colorado, last month. Every day, as her students trickle into their classroom after recess, teacher Lindsay Wilwol asked them to find a spot on the floor or at a desk and invited them to "be in their mindful bodies." Once everyone was situated, she played an audio clip that guided them to listen mindfully to a poem from the On Being archive. One week, it was Elizabeth Alexander reciting her poem "Ars Poetica #100: I Believe"; another, it was Naomi Shihab Nye reading "Kindness." Wilwol's students heard the same poem every day for a week with different daily prompts to help them find or experience something new, like where they might feel the poem in their body when they hear it.
Wilwol's class was one of dozens that participated in Mindful Poetry Moments, a collaboration between The On Being Project and City Silence, the creator of Mindful Music Moments, during National Poetry Month. Together, we developed a set of exercises that offer students a contemplative moment with poetry selected from the On Being archives.
Alistair, a fifth grader at The Juniper School, says Alexander's poem in particular helped him see how differently we all interpret and experience art. While the poem made him feel happy, he said it elicited more complicated feelings for one of his classmates. He recalls saying to his conversation partner, "Oh I'm sorry that you feel sad about that, but that's cool that you can make a different feeling out of [the poem]."
For Stacy Sims, the founder of City Silence, the experience of a shared moment of music or poetry can help deepen our connection to one another. "It makes us all feel for a moment that we do live in the same universe and we breathe the same air — and we can be moved by beauty," she says.
Talking to students and teachers across the country who have participated in the program, I was reminded of how U.S. poet laureate Tracy K. Smith talks about poetry's capacity to connect and facilitate larger conversations between us. "Poetry facilitates this thing that says, OK, we're not going to be talking at each other or speculating about each other, but rather opening ourselves up to something, a voice on a page, and talking about what that speaks to," she said in her On Being conversation. What happens when that language invites us to be present not just to one another, but also to ourselves? What can we learn when we have no defenses, as David Whyte suggests?
If you're interested in continuing to explore the exercises with some of the young people in your life, you can download the free resources — a recording, worksheet, and discussion questions — for "Ars Poetica #100: I Believe" or purchase the complete curriculum through City Silence. And you can see the project come to life in a classroom below: