Naomi Shihab Nye
Poetry from the On Being Gathering
This year, we were thrilled to host our very first On Being Gathering — a four-day coming-together of the On Being community for reflection, conversation, and companionship — at the 1440 Multiversity in the redwoods of Scotts Valley, California. We greeted each day with verse from some of our most beloved poets — and now we'd like to share these delightful moments with all of you. Here is how Naomi Shihab Nye began our Saturday morning.
Guest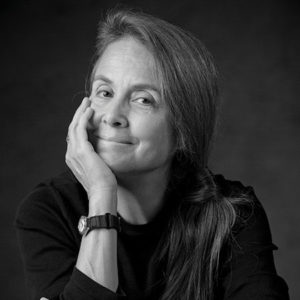 Transcript
Krista Tippett, host: Poetry reading framed the On Being Gathering this year. And we are so happy now to share these slices of beauty, elation, and contemplation with you. Here's how Naomi Shihab Nye began our Saturday morning.
[applause]
Naomi Shihab Nye: Good morning.
Audience: Good morning.
Ms. Nye: It feels like a miracle to be here — at all, every day; but here! Wonder, look, imagine. That hillside spoke to us. Scott and Joanie and Krista and David, all welcomers to this great gathering. You spoke so warmly last night. You welcomed us here, but also, you welcomed us to a place away from fret and fretting, which we have become so good at. That low-grade, "not everything's right; how could I possibly be happy?" rub. Thank you for your gifts of welcome last night. We needed them so much. And thanks to all of you for traveling, for coming to be here.
I'm starting with a poem by Kay Ryan of California: "Lighthouse Keeping" — "Seas pleat / winds keen / fogs deepen / ships lean no / doubt, and / the lighthouse / keeper keeps / a light for / those left out. / It is intimate / and remote both / for the keeper / and those afloat." Thank you for your lights.
A good new trend: Everyone's keeping gratitude lists, notebooks, from first grade up. "Gratitude Pillow," with a quote from Maya Angelou. "Let gratitude be the pillow upon which you kneel." A detail about her life I didn't know until the day after she died: "Maya loved the jingle of the massive key ring / carried by cable car conductors. First woman / in the San Francisco trolley uniform, / she liked the shiny buttons on the jacket, / appreciated the swoops and dips of the routes, / sharp curves, corners, bustling avenues. / Clinking coin dispenser latched to her belt, / she'd be a conductor all her life. Write, and talk, / take people everywhere, out of their tight little rooms. / And if anybody told her they were going / to Gloomy Street, / she'd say, What? Lift those eyes. Take a look at the / sea to your right, buildings full of mysteries, schools / crackling with joy, open porches, / watch the world whirl by, / all we are given without having to own, and shake / that gloom right out of your system! / Hope is the only drink you need / to be drinking—jingle, jingle, step right up."
[applause]
Thank you. That's what you told us, Krista, last night. We needed it.
"People do not pass away. / They die / and then they stay."
"To Manage": "She writes to me—I can't sleep because I'm seventeen / Sometimes I lie awake thinking / I didn't even clean my room yet / And soon I will be twenty-five / And a failure / And when I am fifty—oh! / I write her back / Slowly slow / Clean one drawer / Arrange words on a page / Let them find one another / Find you / Trust they might know something / You aren't living the whole thing / At once / That's what a minute said to an hour / Without me, you are nothing"
[laughter]
Many of the poems in my new book, which came out this week called Voices in the Air invoke writers who have helped us along the way, whose words nourish us and accompany us. This is called "Emily." "What would you do if you knew / that even during wartime / scholars in Baghdad / were translating your poems / into Arabic / still believing / in the thing with feathers? / You wouldn't feel lonely / that's for sure. / Words finding friends / even if written on envelope flaps / or left in a drawer."
William Stafford used to tell us, "Your job is to find out what the world is trying to be." "Woven By Air, Texture of Air" — "Some birds hide in leaves so effectively / you don't see they're all around you. / Brown tilted heads, observing human maneuvers / on a sidewalk. Was that a crumb someone threw? / Picking and poking, no fanfare, / gray huddle on a branch, blending in / attention deeper than a whole day. / Who says, I'll be a thoughtful bird when I grow up? / Stay humble, blend, belong to all directions. / Fly low, love a shadow. / And sing, sing freely, never let anything / get in the way of your singing, not darkness, not winter, / not the cries of flashier birds, not the silence that finds you steadfast / pen ready, at the edge of four a.m. / your day so wide it will outlive everyone. / It has no roof, no sides."
"Airport Life": "Loudspeaker announcement (San Antonio, Texas) / Attention in the terminal! / Would the passenger who left a bucket of stones / with a candle stuck in them / please / return to the security / checkpoint?'"
[laughter]
"Man on cell phone (Jeddah, Saudi Arabia) / Good-bye! Bye-bye, my sweethearts! / I love you! / Send emails! Send pictures! Don't forget! / Pray, do everything!!!!! / And take care!"
"United" — this is thanks to my friend, Eliza Fisher, who sent me a map of the United States with only the mottoes of the states printed on them. It is very, very weird, and you need to check it out. "When sleepless, it's helpful to meditate / on mottoes of the states. / South Carolina, 'While I breathe I hope.' / Perhaps this could be / the new flag on the empty flagpole. / Or 'I Direct' from Maine— / Why, because Maine gets the first sunrise? / How bossy, Maine! / In Arkansas, 'The People Rule.' Lucky you. / Kansas, 'To the Stars Through Difficulties'— / clackety wagon wheels, long land / and the droning press of heat—cool stars, relief. / Idaho, 'Let it be perpetual'—now this is strange. / Idaho, what is your 'it'? / Who chose these lines? / How many contenders? / What would my motto be tonight, in tangled sheets? / Texas, 'Friendship'—now boasts the Open Carry law. / Wisconsin, where my mother's parents are buried, / chose 'Forward.' Washington, wisest, 'By and By.' / New Mexico, 'It Grows as It Goes'— / now this is scary. / Two dangling 'its.' This does not represent / that glorious place. / West Virginia, 'Mountaineers are always free'— / really? / Oklahoma must be tired, 'Labor conquers all things.' / Oklahoma, get together with Nevada, who chose / only 'Industry' as motto. / I think of Nevada as a playground / or mostly empty. How wrong we are / about one another. / For Alaska to pick 'North to the Future' / seems odd. Where else are they going?"
[laughter]
Thank you. And just two more, briefly.
"In Transit" — you know how, sometimes, kids are given poems to work on in schools? The only school I've been to this past week where they worked on this poem, they had made it so complicated and were very pleased to hear that it was an actual box, mailed through the U.S. Postal Service, that never got there. They thought it was all kinds of bigger things.
"In Transit": "I mailed a package to myself. It never arrived. / Months later, wondering what it contained… / the package was oversized, I paid extra. / Mailed it from a place under trees. Surely shade / and sunlight was in the package. Mailed it / from a place compassionate to refugees. / Unopened envelopes inside the package, / poems from kind students hoping for response. / How do we answer without knowing / who they were or what they said? This is why you must smile at everyone, / living and dead, everywhere you go. / You have no idea what has been lost / in transit."
This was for an anthology — it's the last poem in the new book, but I wrote it this past year for an anthology that came out of the United Nations, some lovely poetry lovers who work there. And they were making a book of poems relating to happiness, because, they said, "We can't find one, and we need one."
[laughter]
"Small Basket of Happiness" — and thank you for your beauty, your compassion, your warmth, and for being at a gathering in such a place.
"Small Basket of Happiness": "It would never call your name. / But it would be waiting somewhere close, / perhaps under a crushed leaf / turned from pale green to gold / with no fanfare. / You hadn't noticed / the gathered hush / of a season's tipping. / Shadows flowing past / before any light came up, / people whom only a few / might remember, / so much accompaniment / inside a single breeze. / All whom we loved. / In the quiet air lived / the happiness they had given. / And would still give, if only. / You would slow down a minute. / You would bend."
[applause]