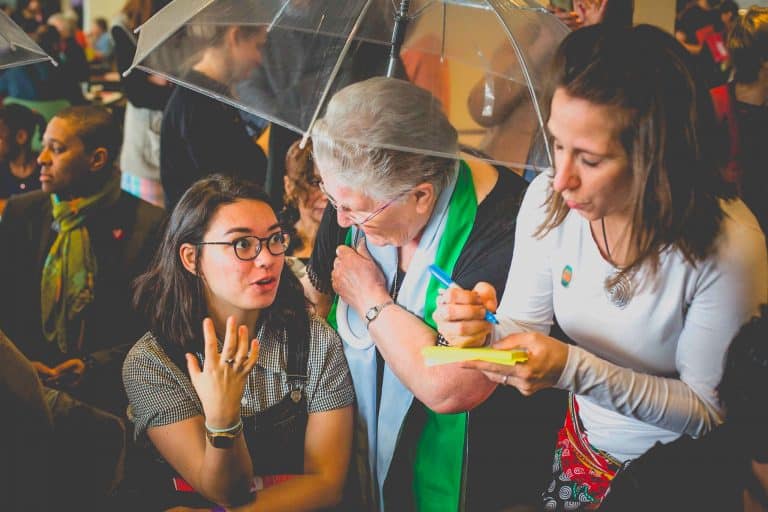 A Little Intergenerational Interaction Will Do You Right
Last week was celebratory at Temescal Commons, the Oakland, California cohousing community I live in. On Thursday, our eldest member Louise turned 79 and we feasted with sweet potato cakes (she doesn't eat sugar).
She brought photos of a particularly meaningful interfaith pilgrimage she had taken a couple of decades earlier. A group of us sat around the table and listened to her recount those experiences. We asked her many questions and reveled in our luck to be able to live in such close proximity to a woman who has continually evolved her consciousness and taken action for seven decades. When I was leaving the party to put the girls to bed, Louise and Stella, my youngest daughter, had a sticky embrace. (Stella really enjoyed those sweet potato cakes!)
On Sunday, Stella turned one. Kate, our neighbor, said the most beautiful prayer before dinner: "Dear God, thank you for Stella's first year of life. This community has been blessed by witnessing her light and joy." Everyone sang to her as she stuck her hand into the rainbow confetti cake. Tom, a nurse in his 40s, lingered after dinner to play Legos with my older daughter Maya, who is starting to grow impatient at still being three years old after all these months.
Celebrating the eldest and our youngest community members in the span of just a few days reminded me, once again, about the secret sauce of cohousing: intergenerational interaction. It makes all of our lives exponentially better.
When I think about my life before living this way, particularly in my 20s, I am struck at how generationally segregated it was. When I graduated from Barnard College, I moved down to Brooklyn, and my entire social life seemed to move with me. I would share meals and angst with people in my exact same stage of life pretty much every single day.
There was a lot of solidarity but not a lot of perspective. It was like a never-ending loop of exuberant partying and how-do-I-find-my-place-in-the-world freak outs; a little baby or elder energy would have done us so much good.
Too often, our only chances at intergenerational interactions are those with our own family or people at work — both of which are fraught for different reasons. So here are some thoughts about how to create more intergenerational interaction outside of these two realms…
Strike up conversations with your neighbors — young and old alike. If it's elders you're seeking out, ask about the history of the neighborhood and how long they have been around. If it's young people you want to create relationships with, inquire as to what attracted them to the neighborhood. As your casual conversations develop into a real relationship, be explicit about the help you're willing to give and the help you need — whether it's someone to demystify how the heck to use the latest technology or someone just to listen to your work woes and help you figure out how to have difficult conversations.
When I lived in Brooklyn, my next-door neighbor Mary, a caretaker for the elderly in her 60s, was my sounding board about many a relationship drama. I fed her birds when she was away. She would often show up with some spicy Caribbean food when I most needed a square meal. It was informal, but so edifying.
Find a religious or spiritual community that speaks to you and start attending regularly. While young people's religious affiliation has famously drifted away from categorization, there are still a lot of great places to gather — as documented by On Being fellows Casper ter Kuile and Angie Thurston. Bonds require proximity and frequency. There's no way around it. Show up and keep showing up. And remember the four keys to intergenerational thriving: respect, responsibility, reciprocity, and resiliency. This is one, to be quite honest, I've failed at. True to the worst stereotypes of my generation, I've been more of a religious institution tourist: dropping in and never returning. It feels like I haven't found my place just yet.
Host an intergenerational dinner party. Like David Simpson and his wife, Kathy Fletcher, who created a weekly meal ritual called All Our Kids. All you need is a dining room table and one kid. Keep the meal simple and collaborative. Create space for every single person in attendance to be the focus at some point. Gratitude and warmth are the most important ingredients.
Join the Generation to Generation community. Powered by Encore.org, it's about, in their words, "people who believe that experience matters, and that the goal of later life isn't trying to remain young: it's to be there for those who actually are." This summer they are running a special campaign designed to help older people fill in some of the gaps in learning and care that so many young people experience when school is out. Some elders are becoming "bigs" through Big Brothers, Big Sisters. Others are volunteering to read with kids at local libraries.
Surely you have other great suggestions. What meaningful intergenerational relationships do you have in your life? How did they form?