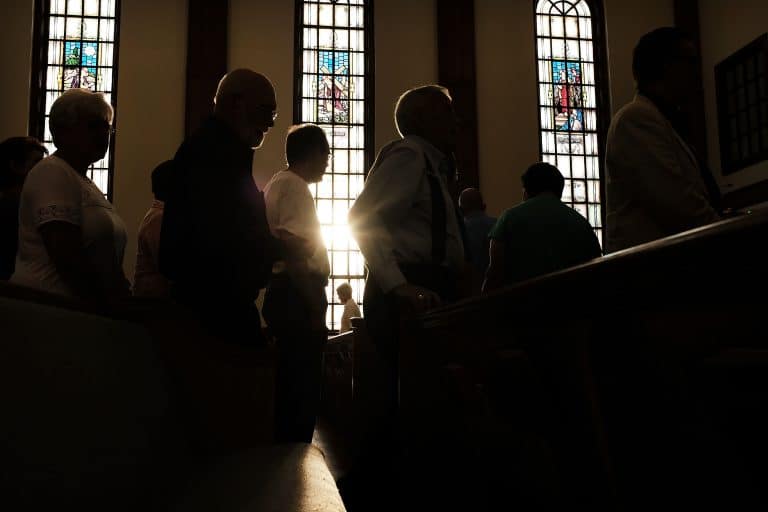 Church Is What We Create with Each Other
Last fall, Norman, an 89-year-old congregant at my rural Massachusetts church, stood to make an announcement. On this morning his white hair was combed back, his beard trimmed. His Carhartt pants and flannel shirt looked cleanly pressed. He took his time rising to his feet, leaning on the pew in front of him as he turned to face the congregation. "This announcement might not matter to anyone but me," he said, "but in the early hours of this morning my son's wife gave birth to two tiny daughters." His smile was wide. "I got the call just before dawn." We all cheered and called out our congratulations. Norman's announcement mattered to all of us.
Announcements are an important part of life in a small church. The first Sunday my wife and I attended what has now been our church for fifteen years, a woman raised her hand for an announcement and when the minister called on her she stood, cleared her throat, and said, "This morning I saw God in the face of a kitten." My wife looked at me in disbelief. She'd been raised in the Catholic Church, and the idea of a congregant actually speaking during a service — let alone sharing a divine feline vision — was unimaginable to her. But I couldn't meet her eyes because I was trying not to laugh. In the suburban Methodist church of my childhood the only person who made announcements was the director of Christian education, a pert and slim woman who wore shirtwaist dresses and high heels and who, when the minister called on her, would jog — in her high heels — up the center aisle to the altar so as not to waste any time walking. It was not a church in which time was wasted.
Our church isn't really worried about wasting time. And it's so small there's no reason to come forward when you have an announcement. We can hear you from wherever you're sitting in the sanctuary, a white and sunlit space in which orchids sit on windowsills and oriental rugs hang on the walls to improve the acoustics. And if someone can't hear you, well then, she just yells, "Speak up!"
For a long time announcements bothered me. I thought they kept us from what mattered, that they were housekeeping, business best conducted somewhere else. Was now really the time to talk about pancake breakfasts and broadband networks? But I've since come to understand that yes, actually, now is the time. Because I've learned — over many, many years — that church isn't about order or quiet or even ritual so much as it is about showing up. For yourself, for God, and for the people around you who need to feel — just as you do — that the blessings and burdens of being a human are not theirs to bear alone. Sometimes we feel that union of souls in sublime and obvious ways, like when we hear a fiery reading from the prophets or the psalms, or sing verse after verse of "We Shall Overcome." And sometimes we feel it when someone stands up and tells us that she is looking for a new woodstove and please call her if you have a lead on a good one, not too expensive, not too far away.
Just a few weeks after Norman announced the arrival of his twin granddaughters, the plane he was piloting, his 1966 single-engine Cessna, crashed in the Vermont woods. He'd been flying, alone, to his son's house for Thanksgiving. He didn't survive. Our minister wrote an email to the congregation, telling us Norm was dead. "Let us give thanks that we all knew and loved Norman," he wrote.
"We could tell a thousand stories. We have memories that make us laugh and others that make us cry; we have been so fortunate. That's all I know tonight."
It was a sad email. Our congregation gets emails from our minister when there is news that can't wait for Sunday, and often it's not good news. These emails are another kind of announcement. We aren't together in the sanctuary, but the news still binds us. I read my email, knowing that others in the congregation were reading too, and that the tiny world we shared had changed.
In the days after Norman's death I thought often of his last announcement. I imagined that he hadn't been able to sleep after that dawn phone call from his son, so he'd stayed up, maybe had some coffee. He'd remembered that it was Sunday, and that he could go to church and make an announcement. Because that sort of news isn't news you want to keep to yourself. I imagined him combing his hair, stringing a belt through his pants and missing a loop, no one there to tell him. Then pulling on his boots and making his way to church, where he could breathe some life into his quiet joy and announce his relief for the news of a safe delivery, the miracle of two tiny granddaughters. Where he could join the communion of souls. We don't want to be alone in our happiness just as much as we don't want to be alone in our grief.
A few days after Norman's death, a Facebook friend of mine, a man who'd once lived on Norman's hill, posted his obituary. When I first saw the post I was confused. The link wasn't to our local newspaper, but to The New York Times. And this was the headline: "Norman Baker, Adventurer, Dies at 89; Crossed Atlantic on a Reed Raft."
I clicked on the link and read the obituary, then read it again. I called out to my family, walking into the living room with my computer. "Look at this," I said, showing them a photo of a grinning and bearded young man on a raft, "It's Norm Baker! And the man next to him is Thor Heyerdahl!"
"Church Norm?" asked my older daughter.
"Who's Thor Heyerdahl?" asked my younger daughter.
I read aloud from the screen:
"He mined gold in Alaska, climbed the Matterhorn, and lived on a 19th Century Schooner that he and his wife had rebuilt. In the ultimate adventure, he navigated a treacherous 3,275-mile voyage across the Atlantic on a papyrus raft captained by the Norwegian explorer Thor Heyerdahl."
I handed the computer to my wife. "How did I not know?" I asked her.
"Well, it was a long time ago," she said.
"But look at this," I said, taking back the computer and scrolling down to show her a picture taken in 2012 at the National Explorers society in New York. Norman was wearing a tuxedo and two medallions strung on ribbons around his neck. His dark eyes shone. He looked like royalty. He looked like Norman.
I read the obituary several times over the next few days. How did I not know? I knew Norman loved to fly, but I'd never talked about it with him. So then what did we talk about? I tried to remember. All the usual things came to mind. Kids, grandkids, black flies in May, owls in winter, blueberries in everyone's favorite season. Everything and nothing. Norman hadn't ever told me a story about his past, just as I'd never told him a story about mine. If I'd known about the expeditions, about the Swiss peaks and papyrus raft, the books and documentaries, would I have felt shy of him? Would his stories have seemed like boasting?
Maybe the real reason I didn't know anything about Norman's adventures was that mostly we didn't talk. We listened. We sang. We stood in a circle. We created, along with everyone around us, that thing called church.
This is what I did know about Norman: I knew what it felt like to hold his hand, how it was strong and a little papery, warm but never sweaty. I knew that when you hugged him you had to bend down a little bit but could feel free to squeeze as tightly as you liked. I knew that his wife had died of cancer, and that every year on her birthday people from the church set out in canoes across the town pond in what they called a memorial flotilla, to paddle and laugh and remember her on the water. She died the year before I met Norman. But I still knew her, because of church.
Last year, after I made an announcement about a coat drive for refugee families, Norman brought me a box of his father's old suit coats. "Oh Norm," I thought when I opened the box. "Syrian refugees don't need your father's old coats." But I sorted through them anyway, looked at the fancy labels of the Brooklyn tailors, the lovely silk linings, the thick worn wool. I put them in with all the ski jackets and anoraks. I accepted his offering.
When you are part of a church you accept people's offerings, even the ones you don't necessarily want. One week their announcements will bore you and the next week they will make you weep, and sometimes it will be the same announcements. And sometimes during a hymn they'll start a harmony and you'll join, and your voices will become a conversation, an expression of love between people who by many measures barely know each other at all.
I was away the weekend of Norman's memorial service. But when I came to church the next Sunday there was a program from the service in the first pew. I picked it up, wanting to see what else it might tell me that I didn't know about Norman. But there was just a photo of the Norman I knew, in a flannel shirt and stockman hat at the edge of a meadow, looking over his shoulder to smile for the photographer.
The order of celebration was a humble one. There were remembrances by his children and grandchildren, and an old friend sang a sea shanty. Our minister read the poem "High Flight," by John Gillespie Magee, a World War II pilot. The congregation sang "Awake, Awake to Love and Work," which is one of my favorite hymns. It was one of Norman's favorites too. I knew that about him. We knew that about each other.