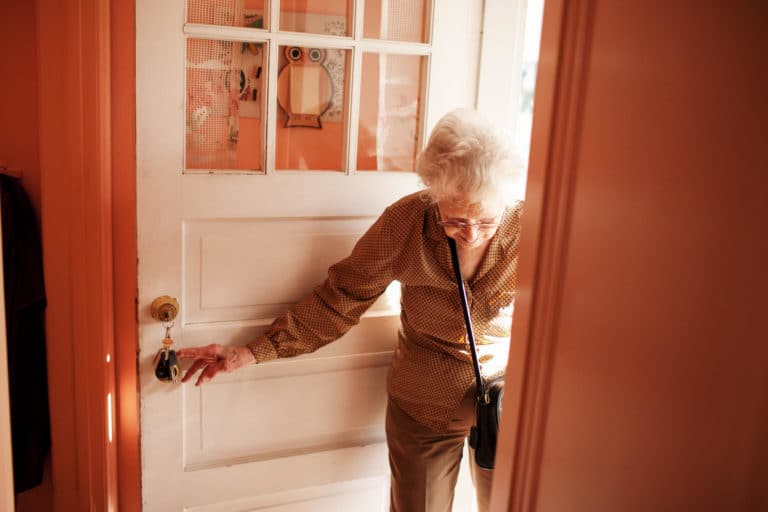 Why We Should Talk More About Death (and How to Get Started)
In a culture that avoids acknowledging our mortality, three organizations offer simple ways into a deeply human conversation.
Why do we find it so difficult to talk about death? For as universal as death is, Americans seem to hesitate to acknowledge its place in our lives. In a national survey conducted by The Conversation Project last year, 92 percent of respondents said they think it's important to have conversations about end-of-life care with their loved ones — but only about a third actually did so.
Even for Atul Gawande, a physician who regularly works at the threshold between life and death, conversations about mortality don't always come naturally. In his On Being interview, he describes discussing treatment options early in his career with people facing a terminal illness, recalling that oftentimes "we never once talked about the fact that their life might be mortal."
He stumbles for a moment before correcting himself: "Is mortal."
But acknowledging mortality can actually result in better outcomes. One study Gawande cites examined the effects of palliative care by splitting patients with metastatic lung cancer into two groups: Both groups went through standard medical treatment for their cancer, but half of the patients received additional palliative care that started shortly after their diagnosis. The group that received palliative care not only reported higher quality of life and fewer depressive symptoms, they also lived, on median, almost three months longer than their counterparts.
A critical component of palliative care is in the conversation to identify a patient's priorities. This practice prompts some inherently humanizing questions not just about death, but also about the lives we want to live here and now: What are the boundaries on your quality of life that you're unwilling to cross when pursuing medical treatment? Or, put more plainly, what does a good day look like?
Gawande, the author of Being Mortal, now asks his patients questions along these lines. He says, "What I realized is, we were not really talking about death or dying. We were really talking about, how do you live a good life all the way to the very end, with whatever comes?"
Physician Ira Byock, a pioneer in the palliative care movement, observes something similar in working with patients. "The confrontation with death lays bare the spiritual core of the human condition," he says. It allows us to confront what it means to love, as well as what it means to forgive. That can be meaningful for ourselves and our loved ones — and not just at the end of life.
Generative conversations about death and dying can take many shapes and forms. If you're unsure of where to start, here are three initiatives helping us ease more comfortably into conversations about our mortality:
Before I Die
The question Gawande often asks his patients — "What does a good day look like?" — is a useful one to reflect on regardless of your health or life stage.
The Before I Die project provides a literal canvas for a similar spirit of reflection and aspiration in the form of a public art installation. On walls painted black, people can use chalk to write a response to the prompt:  "Before I die, I want to …"
Artist Candy Chang started the project on the wall of an abandoned house in New Orleans, but it has now appeared on over 5,000 walls around the world (they have a free toolkit if you want to put one up where you live). The organization also collects responses on their website — a dream bank of sorts, inviting us to consider our mortality through a lens of meaning. 
The Conversation Project
While we seem to want to talk about our desires for the end of life, perhaps the mere acknowledgment of death can feel like giving up. Gawande often suggests breaking down the conversation into a few practical questions:
What is your understanding of where you are and of your illness?
What are your fears or worries for the future?
What are your goals and priorities?
What outcomes are unacceptable to you? What are you willing to sacrifice and not?
What would a good day look like?
Gawande is also an advisor to The Conversation Project, which helps facilitate discussions about end-of-life care while aiming to lift some of the stigma associated with it. Their Conversation Starter Kit (available in 13 languages) offers additional fodder for personal reflection about what's most important to us, as well as ways to discuss more logistical and tactical issues, like our wishes for medical care.
Five Wishes
"It's important to acknowledge that dying isn't medical. It's personal," says physician Ira Byock. In his On Being interview, he opens us to explore the emotional and spiritual dimensions of the end of life, which he considers to be a life stage in itself. Five Wishes is an initiative that similarly honors a more holistic perspective on the end of life. They provide a humanizing, plain-language legal document template that guides individuals through reflecting on their hopes for themselves and their families.
---
These resources are merely three doors among many into the world of palliative and end-of-life care. To learn more, listen to the On Being interviews featuring physicians Atul Gawande, Ira Byock, and B.J. Miller, and explore our Library of interviews and essays on Death & Dying.