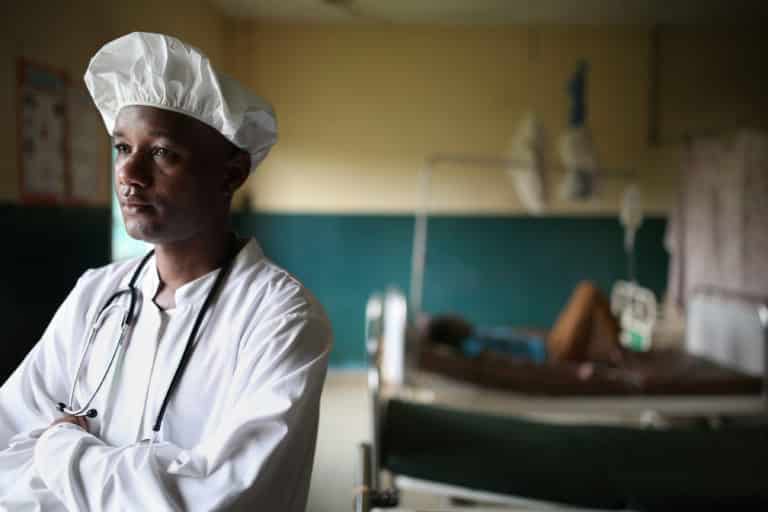 The Gift of Bad News
Oliver Sacks was 81 when he heard he had terminal cancer. My good friend Molly was 66. Raymond Carver was only 50. After receiving the news, he wrote a poem titled "What the Doctor Said":
He said it doesn't look good
he said it looks bad in fact real bad
he said I counted thirty-two of them on one lung before
I quit counting them
The last time I read Carver's poem I was sitting with a group of doctors, nurses, and social workers in a conference room on the eighth floor of Johns Hopkins Hospital for a meeting of AfterWards, a program Dr. Benjamin Oldfield and I run in the Charlotte Bloomberg Children's Center. The aim of AfterWards is to encourage health professionals through literature, art, and writing to reflect on the work they do, strengthen their resiliency, and bolster their compassion. The topic that day was "Delivering Bad News," and we were all struggling to learn what we could from Carver's poem.
Ben read the poem out loud. It's a tough one to absorb, not just because of what Carver says but because of how it says it. He writes without punctuation, not even a period, simply a stream of words: a single, rushed, exhaled breath. At the end he says the doctor gave him "Something" no one else on earth had ever given him before.
"What," one of the nurses at the table asked, "did he mean by that?" It was a good question, and I found myself wondering about it, too. Carver got "Something" from his doctor that day. News that he was dying, yes, but was there more?
Sooner or later many of us will find ourselves in Carver's place, in a doctor's consulting room, hearing bad news about ourselves or a loved one. For Molly, the news came over three years ago. Her cancer was a tough one, and we didn't think she'd still be with us today. For a long time she lived with it, but now she's dying from it. The cancer cells are growing at a furious pace and can't be stopped. They are like an engine revved in overdrive, burning up her energy, consuming her from the inside out. She has grown thin and weak, and we are all bracing for what will come.
In the conference room, a child psychiatrist talked about giving parents the bad news that their child had autism: "Often they're relieved to hear it. It's what they suspected all along and they're glad finally to know."
The first time Ben gave bad news, he was a new intern. A senior physician introduced him to a patient, saying, "Ben is going to lead this conversation." A trial by fire. Doctors winced as they talked about giving bad news to patients they had only just met — and might never see again. A pediatric oncologist said:
"Once you say the word cancer, families don't hear you anymore. They just can't."
Learning your child has cancer has got to be some of the worst news in the world.
A few weeks earlier I had run into Nick, Molly's oncologist. I hadn't seen him for a while, and I stopped to tell him how grateful I was for the care he'd given Molly. To my surprise he began talking about Molly. It turned out he knew a lot about her. More than I would have guessed. He knew Molly had gone away recently to a retreat in the mountains to be alone for a few days to reflect on her life. He talked about how Molly inspired him, how she handled her illness with grace and courage. Molly always gave more than she took. In the end his eyes filled with tears. "I'm sorry," he said. "I can't talk about this anymore."
Is it possible to teach doctors how to give bad news? In training they learn SPIKES, a mnemonic:
S — Setup: Set up the situation so it has a good chance of going smoothly. Before you go into the room, have a plan in your mind. Sit down, make eye contact, and get reasonably close to the patient. Anticipate that the patient will be upset and have some tissues ready.
P — Perception: Find out the patient's perception of the medical situation. What has he been told about the disease? What does he know about the purpose of the unfavorable test results you are about to discuss?
I — Invitation: Find out how much information the patient wants.
K — Knowledge: Use language that matches the patient's level of education. Be direct. Avoid using medical jargon as it might confuse the patient.
E — Empathize: Use empathic statements to respond to the patient's emotions. This will assist in patient recovery and dampen the psychological isolation that a patient can experience when she hears bad news.
S — Summarize and Strategize: Summarize the clinical information and make a plan for the next step, which may be further testing or discussion or treatment options. Be as concrete as possible and check in on the patient's understanding of what has been discussed.
Like most things in medicine, the directions are precise. One doctor recalled being told to sit "an arm and a half" away. The "E" stands for empathy. Is it possible to teach that? Had Nick learned it from his patients — from people like Molly? The only thing the caregivers in our group agreed on was that there was no one way to tell patients the outcome won't be what they've hoped for. "There's no right way," a social worker said. "All you can do is look to your patient, try to imagine what she's thinking, what he's feeling." I imagined Nick, for three long years, looking at my friend.
Hearing the news changed the way Oliver Sacks viewed the world. "Over the last few days," he wrote, "I have been able to see my life as from a great altitude, as a sort of landscape, and with a deepening sense of the connection of all its parts." It changed Carver, too. The doctor in the poem asks if he kneels down in forest groves; if he asks for help at a waterfall. "I said not yet but I intend to start today." Perhaps Carver is telling us that the "Something" he received was more than just bad news.
We've all been told we should live each day as if it were our last, but how many of us truly can? Life is a journey. We're in the middle of it. When we hear the news, we know — for the first time really know — our journey will end. What do we want from our doctors at that moment? What do they want from us? No matter where we sit, we are infinitely far apart and impossibly close. They have given us something no one else on earth has ever given us before, and we are transformed. For three long years, Molly has lived that truth, has used it to deepen the meaning of her life. She took the words Nick gave her that day as more than just bad news. She took them as a gift, and then, in her irrepressible fashion, she gave him something back.
---
Some names and identifying characteristics have been changed to protect patient privacy.