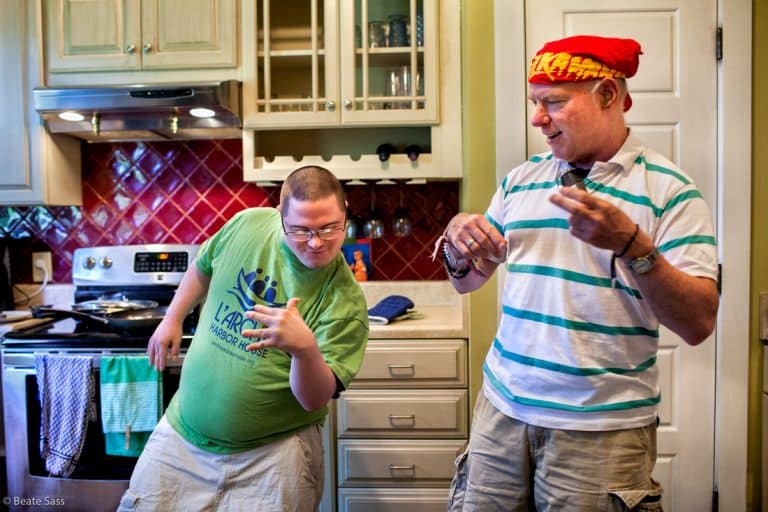 Community and the Complexities of Presence
Editor's note: In February 2020, L'Arche International released the results of an independent investigation that it commissioned into Jean Vanier, who died in 2019. The investigation determined that the L'Arche founder, Catholic philosopher and humanitarian engaged in manipulative sexual relationships with at least six women from 1970-2005. None of the women had disabilities. The report also concluded that Vanier was complicit in covering up similar sexual abuse by his mentor, the late Father Thomas Philippe. In this response, Krista reflects on the moral questions and meaning raised by these discoveries. 
Father Kevin Cullen recalls one of the first times he stepped foot in a L'Arche home as a young Jesuit priest, over forty years ago. He sat down at the table for prayer before dinner and took the hand of a resident named Hazel. It was then that he realized that her hands felt different — that they were webbed. Surprised by the unfamiliarity of her touch, he started to let go.
Hazel's response has remained with Father Kevin to this day: Instead of distancing herself, Hazel held onto his hand a little tighter, leaned in, and said to him, Don't worry — you're going to be okay.
"I realized, I'm not going to do a thing for her," he said. "She's just done something tremendous for me; she's just taken away all my fear of feeling something different."
L'Arche is a community that understands the deep learning that happens through presence. The organization is a network of 152 intentional communities across 37 countries, centered on life with intellectual disability: "core members," the L'Arche term for residents with intellectual disabilities, live with able-bodied assistants, sharing everything from Sunday dinners and prayer to doctor's visits and road trips. They celebrate birthdays, mourn deaths — and live through everything in between — together. The organization takes care to emphasize the symbiotic nature of the bonds between core members and assistants; the role of the assistants is not so much to "help" the core members as it is to cherish life with them.
Father Kevin, who currently serves as L'Arche's central regional director in the United States, told me that he calls this attention to each other as learning from "the school of the heart." I spoke with him in Mobile, Alabama, where seven L'Arche communities were gathering for a conference over Martin Luther King, Jr. weekend. Our conversation was often punctuated by warm greetings from L'Arche members, grateful for their safe arrival (Father Kevin's home community, in St. Louis, weathered an ice storm on their ten-hour journey from Missouri).
One thing I learned quickly was that words are not the currency of choice at L'Arche. While some core members were verbose and unshy ("You're making me nervous," one core member informed me as I pulled out my phone to record our interview), many others barely spoke, or even made eye contact. But the lack of words rarely resulted in silence; instead, core members shared themselves through other languages: music, tears, prayer, dance, laughter.
Relearning these languages for myself was perhaps my favorite lesson from L'Arche. I've come of age in the world of words; I believe in their power to connect, even redeem, us. I take faith — comfort — in their ability to frame, account, order, justify. But I think I've forgotten (or never knew) the value of not knowing what to say, or even what to think, or do — the value of simply being — and being accepted for just that.
L'Arche members do not shy away from their radical form of sharing and receiving, one that embraces indiscriminately and appreciates the idiosyncrasy and sanctity of each individual. The core members "have taught me a lot about what it means to love people well and to show up for people," said Evangeline Smith, an assistant at L'Arche Chicago. "And it can look so differently. How I love them looks differently from how they love me."
Naïveté has no place in their commitment to each other. Presence is difficult, and L'Arche members seemed acutely aware of the uncertainty and awkwardness and hurt that comes with it. The gifts of presence are not always found in the comforts of getting along with each other, but rather in sitting with messiness and complexity.
On the final day of the gathering, the L'Arche community joined the city for a rally and march in honor of Dr. Martin Luther King, Jr. Our path took us past the National African-American Archives and Museum. Struck by the quiet solitude of the small white building, I found myself retracing my steps after the march. A sign in front of the museum revealed that the building's previous life was as the only library for African Americans until desegregation in the mid-1960s.
Since my visit to Mobile, I've been wondering about all of the things we do not yet know about each other, the wisdom we've squandered in our refusal to confront the complexities of presence. What have we yet to learn as a country because of the many ways we've segregated ourselves — in the past through slavery and Jim Crow, and now through our school systems and police brutality, gerrymandering, and gentrification? I thought of Eula Biss' On Being interview:
The racist structures of our society cut us off from close friendships with people of color….That's one of the things we lose, that kind of productive conversation that can move a person's thinking forward and can expand a person's — not just their acceptable vocabulary, but also their real understanding.
On this front, we have a lot to learn from L'Arche. For me, experiencing their community — much of which stems from the simple commitment to live together — felt like a window into what could be possible for America, if we ever honestly and wholeheartedly reconciled our history and current state of racism and white supremacy.
The process of coming to a "real understanding" — the deeper work of friendship and presence — is also the foundation for L'Arche's origin story. In 1964, a young man named Jean Vanier traveled across France to visit asylums institutionalizing mentally ill and developmentally disabled individuals. Moved by the great sadness and isolation he witnessed, he decided to invite two asylum patients to live with him. With the help of his family and community, he bought a plot of land in Northern France at Trosly-Breuil and began to "share [his] life" with Raphaël Simi and Philippe Seux. Vanier has called Trosly-Breuil his home since then; today, his community of three has grown to house 200 core members, assistants, and employees, all committed to a life of learning together, and especially from each other. I've always been struck by this story, its reminder that the response to despair is to pull the hurt closer and closer, until you're under the same roof.
Commemorating the beginnings of L'Arche, Jean Vanier reflected on how his initial vision has deepened into a greater philosophy of community, and the critical role that people with intellectual disabilities play in society. "When I first began L'Arche, I never would have said as I clearly as I say today that people with mental handicaps are prophetic. We discovered this gradually over the years, as we searched for our way, our structures and our identity. People with mental handicaps have helped me discover what community is."
Perhaps community is the word for what we will discover if we honestly and radically let each other into our lives — or perhaps it's something else, in a language we have yet to uncover.